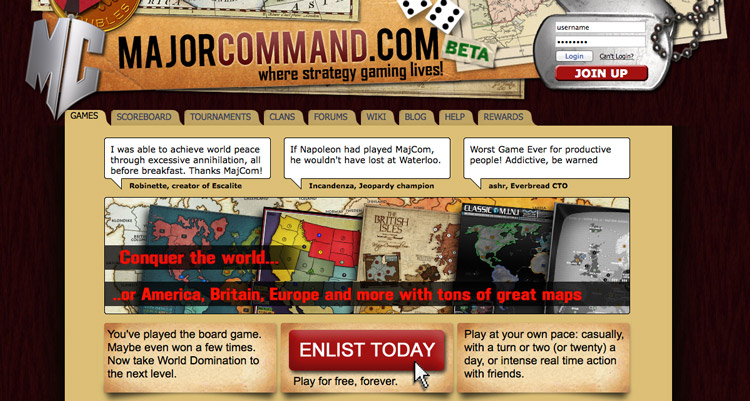 4 Reasons Why You Should Be Playing MajorCommand
---
About six months ago, my brother suggested that we start playing Risk® (a family favorite) or a similar strategy game online. My dad is living in the South, my brother is up in New England, and I'm in the Mid-Atlantic — so we needed to find a game that focused on global domination while offering some flexibility to suit our schedule.
After our conversation, I spent a few days researching Risk® alternatives online. I experimented with a few of the options and ultimately made the decision to compete online at MajorCommand.com.
Here are four reasons why you should be playing there as well.
Reason #1 — Game Variety
Physical board games are great — and the classic game of Risk® will never get old. But if you're playing online, MajorCommand provides a similar experience with so many extra game options. If you're looking to tailor a game to your preferences and schedule, you can't go wrong.
Some options for your game include:
Number of Players – 2, 3, 4, 5, 6, 7, 8, 9, 10, 12, 24
Different Game Objectives – Standard, Mercenary, Assassin
Team Gaming Options – Singles, Doubles, Triples, Quads, Fivers, Sixers, Crusade
How Reserves Work – Flat Rate, Escalate, Escalite
How Your Dice Rolls Work – Chance or Fixed
Turn Length – 24 hours (perfect for my dad, brother, and I), 5 minutes or 3 minutes (perfect if you can play in real time)
Game Visibility – Public or Password Protected
These features enhance the gaming experience and ensure that everyone can find a game that suits them well.
See the Game Options
---
Reason #2 — Awesome Maps
When we were researching our online global strategy game, my dad had one request — find a solution that gives us plenty of map options. In this category, MajorCommand delivers.
There's at least 20 maps, ranging from small to large, basic to complex. Each map has a unique set of features, which are explained well in the map's brief and through extensive online documentation.
My favorite maps include Rivals of Rome (undefeated here), The British Isles (lots of border connections on this map), and the Twelve Domains (really unique).
Check Out the Maps
---
Reason #3 — A Vibrant Community
MajorCommand has a large community of users, most of whom are genuinely helpful and friendly (even though their ultimate goal is to wipe you from the face of the earth). This diverse user base means that you can always find a game to play, and you're competing with users all over the world — all from your living room.
Also, the site moderators take the requests of their users seriously, which means that you get to play a role in shaping feature additions, pricing changes, etc.
A few examples of why the MajorCommand community rocks:
The Scoreboard (earn your spot in MajorCommand history)
Tournaments (play higher stakes games and see if you can hold your own)
Forums (weigh in on different topics of interest)
Reason #4 — It's FREE!
Let's face it, most of us like when things are free (especially my dad). So another great feature of MajorCommand is that you can play up to 4 games at a time, and it doesn't cost you anything.
I spent my first three months at MajorCommand learning the ins and outs of the site and gaining valuable experience. Once I realized how much joy I received from destroying my dad and my brother online, I decided to become a silver member for $4.95 (that covers six months of membership). In other words, for less than $10 year, I can play unlimited games spontaneously, participate in official MajorCommand tournaments, and much more.
Again, the MajorCommand experience is free, but I enjoyed the site so much that I decide to upgrade my membership and offer some tangible, cost-effective support for all the work that goes into the site.
Closing Thoughts
I could add other reasons to my list, but I have some territories to conquer on the Sea of Japan map. So to sum it up, MajorCommand has been a great way for me, my dad, and my brother to stay connected despite our unique schedules. The site features are well-planned and will appeal to any Risk® enthusiast.
If you're looking to conquer the world (or your family), enlist for free over at MajorCommand and add some excitement to your online schedule.