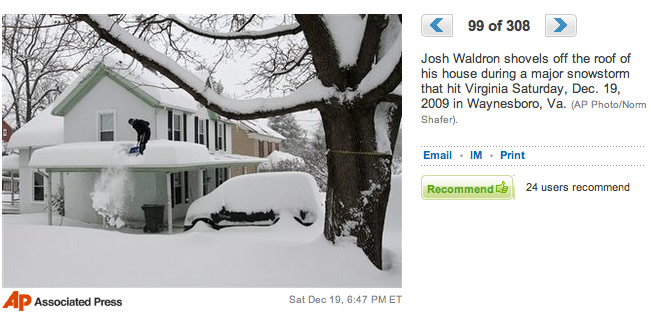 My brief stint on the AP photo wire
---
If you were hoping for a thought provoking post, you may want to move on. This post falls more into the personal, not-really-all-that-enlightening category. However, I do promise one more meaningful post on or before January 4, 2010.
So here's the story:
Over the weekend, this area of Virginia received over 2 feet of snow. Given the age of our house and the record-breaking accumulation, I thought it would be wise to shovel off our lower roof. As I shoveled, a man came walking up the street in thigh-deep snow. He stopped in front of the house and we had a brief conversation. I learned that he was a former newspaper photo editor (Norm Shafer) who is now contributing photos independently to the Associated Press. He proceeded to take a few photos of me shoveling before heading on his way. Those photos made their way back to the AP photo wire and were used by a number of news sources nationwide.
The fame is overwhelming, but I haven't forgotten about my fans. If you would like an autographed photo, please send $50 in a self-addressed, stamped envelope. I'll mail you a black and white photo of me shoveling with a personal note wishing you all the best. It's a holiday gift that the whole family will love.
Signing off,
JWAL
Where you can find the photo: