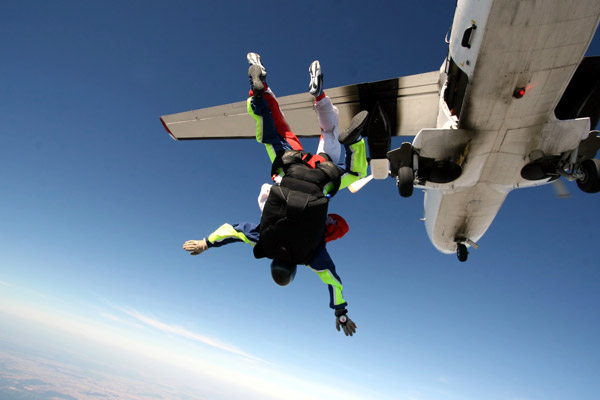 Life on the edge — Living with a credit score of 0 (zero)
Life on the edge — Living with a credit score of 0 (zero)
---
Forget skydiving…if you really want to live life on the edge, try living with a credit score of zero.
In March of 2009, I checked my credit score to make sure Kate and I were ready to apply for a home loan when the time was right. At the time, I had a decent credit score (718) and assumed all was well.
In June of 2009, I applied for a mortgage online. Our loan representative called me immediately and said something like this:
Josh…
I'm looking at your credit history, and it's excellent.
During the last few years, I can see that you made all of your payments on time, in full.
However…
Your credit score is currently a 0 (zero).
That's a problem.
My first thought was "You've got to be kidding me. You've got the wrong guy."
Here's what happened.
When I graduated from college in 2006, I paid off my student loans very quickly. Even though wonderfully generous loan companies give you money for your education, they expect you to repay the principal (fair enough) plus interest over a long period of time (not so fair). Since I took a few math courses in college, it seemed like a good idea to pay off the principal as soon as possible to avoid paying thousands of dollars in interest.
I guess I was wrong.
I later learned that my quick loan repayment meant that my credit score only had a 12 month window to benefit from my financial responsibility. By the time we applied for a mortgage, I hadn't made any debt related payments in over 12 months and the credit bureaus "could not determine my ability to make payments on a loan."
What a joke.
Other factors also brought my credit score to its proverbial knees:
We live within our means.
We only spend money we actually have.
We pay for everything in full.
We do not have a credit card.
Even though these credit bureaus had all of my credit history at their fingertips (college loans completely paid off in less than a year, no late utility payments, etc..) they still assigned me a credit score of 0 (zero).
The message: You must have debt to get a good credit score.
I was actually being punished for my financial stewardship. Because I did not adhere to the system (the same system that drives millions of Americans deeper into debt each year), I had to jump through hoops to get us approved for a home mortgage.
Good thing I enjoy jumping through hoops.
I spent the entire month of June contacting past utility vendors for "letters of alternative credit." Most of them wouldn't provide these letters, in spite of the fact that I paid them thousands of dollars over the course of my short adult life. I guess it's unreasonable for the consumer to actually request something from the corporation.
Let me recap some of the ironies so you can learn or repeat my mistakes:
You should have lots of debt if you want a good credit score. Debt is good.
Don't pay things off quickly. That would be unwise.
Get as many credit cards as you can. They will help you.
In retrospect, what I've really learned is that Fair Isaac Corporation (responsible for FICO scores) wields a dangerously powerful and highly illogical control over lending in this country. If you're not willing to adhere to their system, you may end up with a credit score of 0 (zero).
Life on the edge.