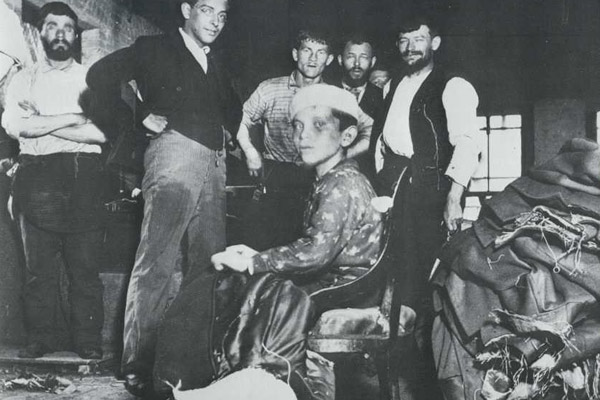 5 tips for examining historical photos
5 tips for examining historical photos
---
In the late 19th century, Jacob Riis published How the Other Half Lives, a groundbreaking study focused on the living conditions of New York's lower east side. As a Danish-American Progressive reformer, Jacob Riis sought to highlight the seriousness of urban poverty and encourage the public to take action. To reach this goal, Riis learned and utilized the new technology of his day, including flash photography.
The photos in How the Other Half Lives are undoubtedly moving (view all of the photos here), and one could argue that "a picture is worth a thousand words." At the same time, a discerning viewer is still left with a series of important questions that need to be addressed. Take the Riis photo above for example:
If you're feeling motivated, take out a piece of paper and follow these 5 tips for examining a historical photo.
1. Write down what you see and then draw some possible conclusions.
The good news is that making observations comes naturally to most human beings. However, forcing yourself to intentionally observe details sometimes yields surprisingly insightful conclusions. Don't rush this step.
2. Ask yourself what details are missing.
A camera lens cannot capture everything a photographer sees, so it is important to remember that photos have limitations. Furthermore, a photographer is giving you a selective, framed version of a real environment. The details missing from a photo may actually be more important than the visible elements, so be sure to think outside of the box (or frame, if you prefer).
3. Learn more about the photographer.
With the internet at our fingertips, this is step is easier than ever. In this instance, we know that Jacob Riis was a 19th century social reformer, Danish immigrant and journalist. How would these attributes influence the photos that he took? One should also consider any obvious biases the photographer might have. Some brief research into the works of Jacob Riis make it clear that his attitudes toward certain immigrant groups influence the photos he took, as well as the solutions he proposed.
4. Consider the artistic angle.
Jacob Riis was an adult male of average height, but the angle of this photo clearly originates below the child thread picker. Why would Riis shoot the photo this way?
5. View the photo from different social vantage points.
It may be hard to believe, but everyone doesn't see things the way that you do. Try to imagine how you might respond to this photo if you were a first generation immigrant, instead of a third generation American – or how you would view this photo as an affluent suburbian, instead of a lower-middle class worker. Social vantage points are important, as the photographer is often trying to reach a particular demographic with potent message. This was certainly true in the case of Jacob Riis.
A more comprehensive approach to analyzing historical photos can be found here.
This post is in no way comprehensive, so please include additional tips or examples in the comments section below.