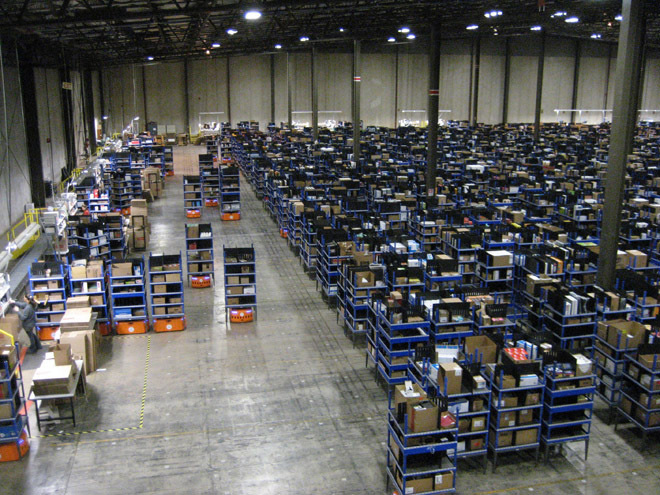 Robots Transform Retail
Robots Transform Retail
---
Last week I shared some thoughts on the Industrial Revolution. My WHII students discussed the question "Did the benefits of the Industrial Revolution outweigh the negative changes that took place in society?"
This week I want to discuss the modern Industrial Revolution. The historical shift that took place in the late 18th century is continuing to transform society today. Businesses spend billions of dollars each year looking for innovative ways to increase productivity and gain an upper hand on their competitors.
Wired Magazine recently highlighted several retailers (Gap, Zappos, Staples) who have introduced robots to their warehouses. When you ordered a product in the past, employees were responsible to find the product you ordered, carry it back to their station, and package that product for delivery. Now that robots are involved, here's how the process works:
You order a product online.
A robot determines where the product is located in the warehouse.
A robot finds the product and delivers it to a human being.
A human being finalizes the order.
Here are some of the obvious benefits to retailers using robots as part of their labor force.
Robots don't require a paycheck or health benefits.
Robots don't complain.
Robots don't need a lunch break.
Robots are very efficient.
In the article, Pete Wurman (a computer science Ph.D. who was part of the team that developed the robot technology) asserts this "technology will be the de facto way to run a warehouse." In other words, the traditional warehouse process is going to change in significant ways, much like industries during the Industrial Revolution. I've highlighted the pros of these changes. I want you to comment on the question below:
Long term, what negative effects might result from the introduction of robots to this facility and others like it?
The video below is worth watching to gain a better perspective.