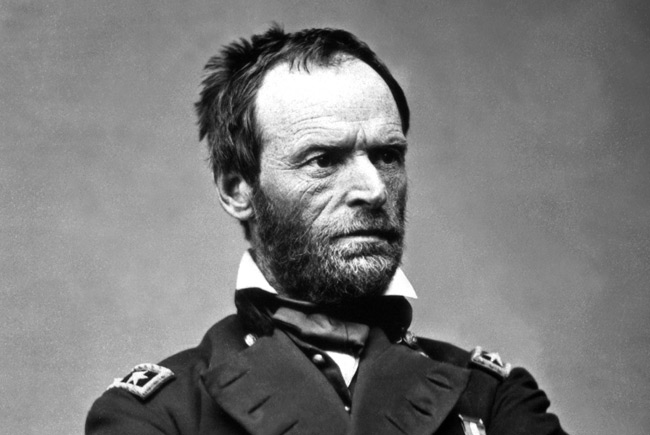 Sherman's March to the Sea
Sherman's March to the Sea
---
*Note: This post is part of an assignment for my AP US History students. You are welcome to comment even if you are not a student.
In 1864, Ulysses S. Grant was named Supreme Commander of the Union Army. This move left William Tecumseh Sherman as Union commander in the western theater of the Civil War. These men had a special bond, and Sherman would later remark:
"We were as brothers. I the older man in years, he the higher in rank."
With a new strategy in place, Grant would focus his attention of the Confederate capitol of Richmond, and Sherman would lead a force of about 100,000 men from Chattanooga, TN toward Atlanta, GA.
Sherman's courage can hardly be questioned. In the Battle of Shiloh, Sherman lost two of his horses and was shot in the hand, but he continued to fight. His actions and excitable personality led some to believe he was crazy. In fact, his plan to march through Georgia was doubted by many. Sherman and his army proved the naysayers wrong as they marched to Atlanta and destroyed virtually everything in their path. Dr. Frank Clark tells us that
"Sherman was not content simply to use what food and supplies he needed, but boasted that he would 'smash things to the sea' and make Georgia howl.  His men entered dwellings, taking everything of value that could be moved, such as silver plate and jewelry; and killed and left dead in the pens thousands of hogs, sheep and poultry. Many dwellings were burned without any justification. Sherman in his own Memoirs testifies to the conduct of his men, estimating that he had destroyed $80,000,000 worth of property of which he could make no use."
And he didn't stop there. In November of 1864, Sherman and his men marched all the way to Savannah, Georgia then on to South Carolina…finally ending in North Carolina.
In a letter to the city of Atlanta, Sherman said:
"You cannot qualify war in harsher terms than I will. War is cruelty, and you cannot refine it; and those who brought war into our country deserve all the curses and maledictions a people can pour out."
Some historians have argued that Sherman's campaign was too destructive. Others have argued that the infrastructure of the South had to be destroyed in order for the Civil War to come to an end.
So what do you think? Was William Tecumseh Sherman a hero or a villain?
Resources you may want to consult:
From PBS