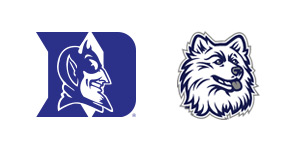 The College Basketball Mafia Strikes Again!
---
I hardly have time for this post, but I can't pass up the opportunity to vent. Once again, the college basketball mafia has nominated an undeserving Duke to #1 in the polls.
Let's review the situation from this past week:
UConn defeats #20 Villanova
UConn also defeats #19 Notre Dame (who had previously won 45 games in a row at home)
UConn plays in the Big East, a conference largely considered to be the strongest division in college basketball*
UConn has more wins against ranked opponents than any other team in college basketball
Duke defeats unranked NC State
Duke defeats unranked Maryland
Duke plays in the ACC, a conference largely considered to be inferior to the Big East*
In spite of the facts, Duke gets a #1 ranking.
Can someone explain the logic to me?
*An unbiased Coach K begs to differ.